Failed to import certain MP4 files to iDVD for DVD burning? No worry! This article introduces an easy way to fix MP4 and iDVD incompatible issues.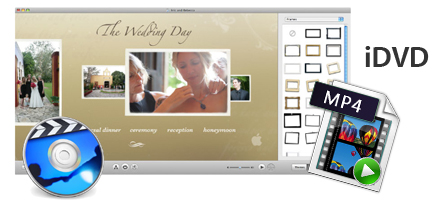 iDVD is an incredibly important tool for many users as they use it to create home videos and to burn other files. It allows the user to burn QuickTime Movies, MP3 music, and digital photos to a DVD that then could be played on a commercial DVD player so the viewer doesn't have to worry about having the right software or codecs. According to the Apple support website, MP4 is listed as iDVD supported video format. Sometimes we can come across the situation that iDVD doesn't let us to preview our MP4 files at all. And we may encounter problems like this one:
"I have around a dozen MP4 files that I am trying to burn to DVD's to view on a home DVD player, however some of the files will not import into iDVD. None of these files are very large, I was able to burn 2 per DVD for the first couple pairs, however when I reached a file slightly larger it wouldn't even transer into my project. For example, 2 files (243.7 MB and 233.9 MB) imported easily and burned perfectly, however I then try to transer a file that is 299 MB and it will not even transfer into iDVD. I am growing frustrated…Any ideas why these files are being stubborn? Any help would be appreciated."
In fact, not all MP4 files can be imported into iDVD. MP4 is a video container format which may contains various video and audio codec, while iDVD only recognize MP4 video encoded with MPEG-4 or H.264, so supposing that the MP4 is encoded with iDVD supported codec, iDVD will create DVD's from MP4 files. If not, we will fail to import MP4 to iDVD or burn MP4 with iDVD. That is why we often meet that iDVD can burn some of our MP4 video but not others.
Luckily, this problem is easy to solve – all you have to do is convert the MP4 videos to iDVD compatible video formats. Along with some help from a third-party program like EaseFab Video Converter for Mac, you can easily achieve your goal effortlessly. The recommended tool can help you convert MP4 with iDVD-unsupported video codecs to iDVD-recognized video codecs with fast encoding speed and excellent output video quality. You can also resolve MP4 incompatibility with other any Apple products like iTunes, iPhone, iPad, iPod, iMovie and QuickTime etc. Now download the program and follow the simple guide below.
Converting MP4 to iDVD Compatible Format on Mac
Step 1. Load original MP4 files
Click "Add" button on the main interface to load your MP4 files to the program. Drag&Drop function is included. (Note: batch conversion is supported, so you can load more than one file to save time.)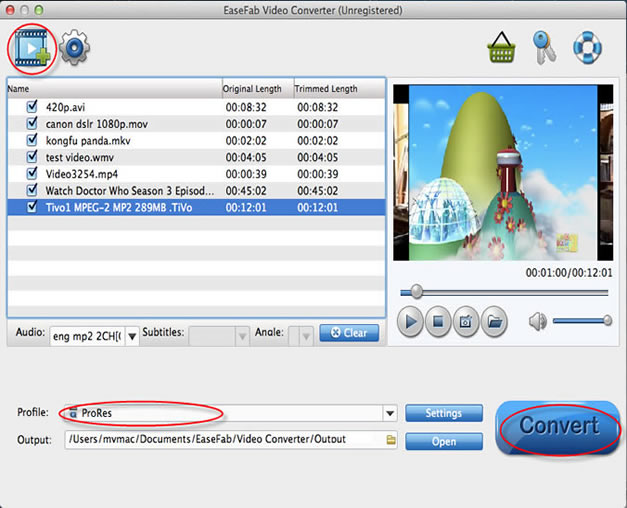 Step 2. Specify MOV as the output file format
Click the "Profile" drop down list to select "MOV" from "Commoon Video" category as the output format.
Tricks: If you want to convert MP4 to MOV for Final Cut Pro, iMovie, you are recommended to directly choose the corresponding format from "Editing Software" category.
Tips: You can also adjust resolution, frame rate, encoder, bitrate for audio, bitrate for video, sample rate, and channels to optimize the output file by clicking "Settings" button.
Step 3. Convert MP4 to iDVD on Mac OS X
After finishing all necessary settings, click "Convert" button to start converting your MP4 files to QuickTime MOV video on Mac. You can also preview the converted video files and set the action after the conversion is completed.
With this MKV to iDVD Converter, you can convert MP4 files to iDVD and create your own DVDs from these MP4 files easily.
Related Articles and Tips:
How to play MP4 files on DVD Player
Why we can't add MP4 files to iTunes library
Why does Plex can't recognize MP4 video file?