This article will show you how to convert TiVo files to Windows Media Player supported formats so that you can play TiVo recordings in WMP without any problem.
TiVos are great for time-shifting TV shows, but can place-shift them as well! However, TiVo files are saved by digital video recorders in their proprietary format with copyright protection, which makes them hard to play on other player without format conversion. Windows Media Player is no exceptation. If you have recorded some TiVo files and want to play them in Windows Media Player, just follow this simple tutorial here, which mainly shows you how to convert TiVo recordings to WMP compatible WMV videos for smooth playing.
To encode TiVo files to Windows Media Player, you need a tool that supports removing DRM to convert TiVo file to WMV because all TiVo files are DRM protected. If you're confusing choosing a suitable one, I recommend you try EaseFab Video Converter, a professional yet easy-to-use TiVo HD Video Converter. This great utility can recmove DRM automatically while change TiVo to Windows Media Player compatible format with least quality loss. esides that, you can also convert Tivo recordings to MP4, MOV, AVI, MPG, WVM, etc for easily opening, playing, editing and uploading without any hassle. No worry about any audio/video sync problem. If you are running on Mac, please turn to its equivalent Mac version.
The following paragraph shows you an easy way to get TV shows off TiVo and converting TiVo for using in Windows Media Player.
Part 1. Transfer TiVo TV shows to PC
FIRST, if you haven't got TiVo recordings on your PC, you need to transfer TiVo to your PC first.
Launch TiVo Desktop software on your PC. Connect TiVo to your home network, and then the TiVo Desktop will provide you with a list of shows for transferring to your PC. Then please transfer the TiVo TV shows you want to PC. Once all the shows you selected have been downloaded from your TiVo, they will appear in the Now Playing list in TiVo Desktop.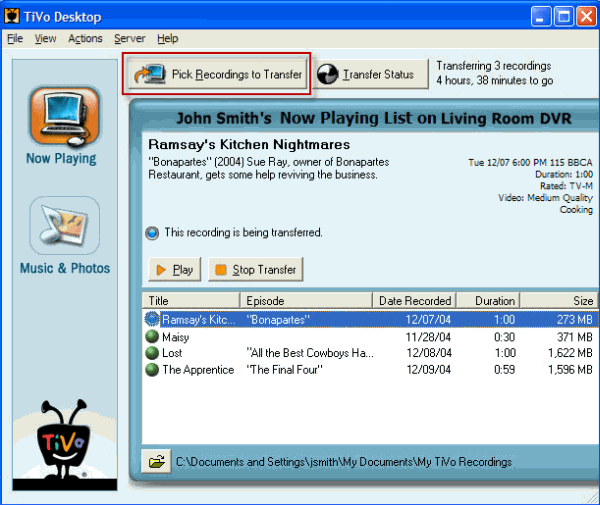 Part 2. Convert TiVo files to Windows Media Player playable WMV videos
Step 1. Load TiVo files
Start up the TiVo HD Video Converter, and then click "Add Videos" to import all .tivo files. (Note: batch conversion is supported, so you can load more than one file to save time.)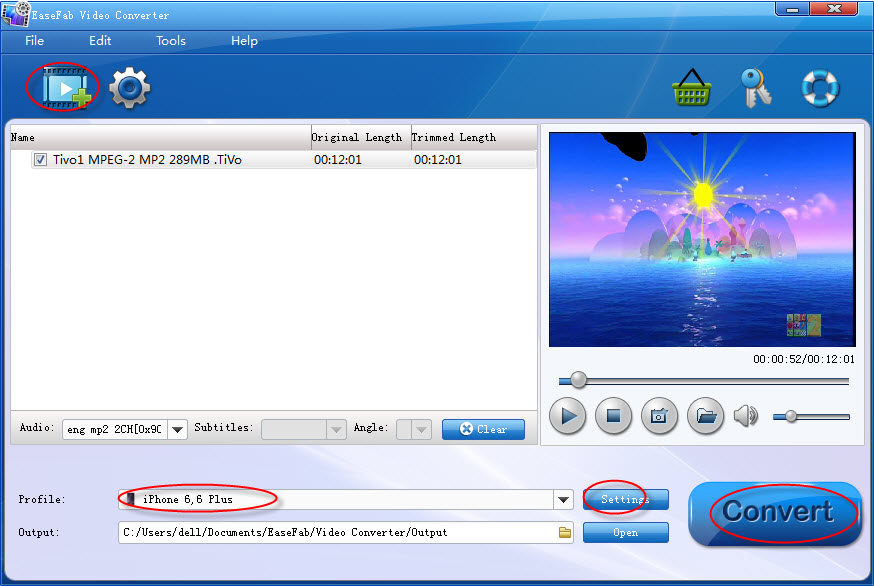 Note: When first loading, The TiVo HD Video Converter will ask you to input your Media Access Key. Simply enter your Media Access Key, and click "OK" to confirm.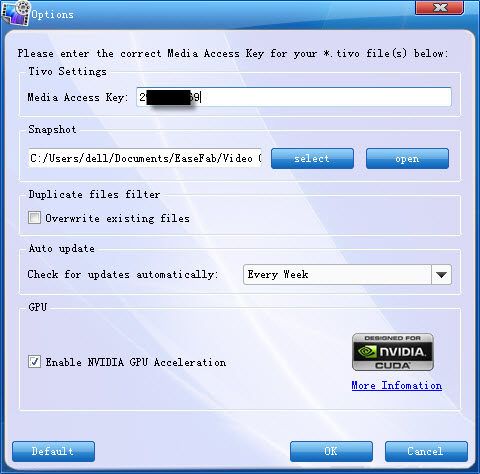 Step 2. Set the output format as WMV
Hit the drop-down button of "Profile" and select an optional format. Just choose WMV as your output format from "Common Video" category. To get better high output video quality, choose WMV-HD from "HD Video" category.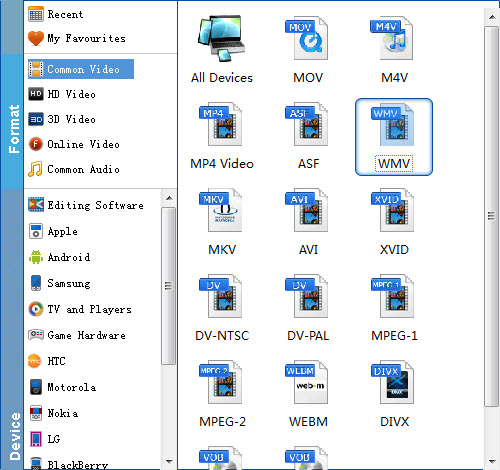 Tip: Click "Settings" on the interface and you can adjust the parameters including size, bitrate, frame rate, etc. to get a high quality of output files. And keep the settings the same as original video recordings will provide you the least loss of video quality.
Step 3. Start converting TiVo files to WMV
When everything is OK, simple the click the "Convert" button at the lower right portion of the window once all the .tivo files you have loaded and selected have been set to output as .wmv.
When the conversion completes, click the "Open Folder" icon to get the generated WMV videos and then import them to Windows Media Player for enjoyment.
Time to put it to the test. Open Windows Media Player and then add items to Windows Media Player Library and it will hopefully play just fine. There you go, that's how you can play TiVo files using Windows Media Player!