The easy workaround to get iMovie work with JVC Everio camcorder MOD files is convert JVC MOD to iMovie editing-friendly formats. Here is the simple how-to.
JVC Everio camcorders offer full HD image quality, provide most people with everything they need from a high-definition camcorder. You can record native 1920*1080 resolution videos regardless of the model you choose. Overall we are expecting the image to be most exciting from the JVC Everio camcorders. However, when you try to import these JVC MOD files into iMovie for further editing, you'll find it's a painful experience. And you may encounter similiar problems like this:
"Why can't iMovie 09 import MOD files directly? When I hook my camera directly, it imports them fine. But if I've copied the files to my hard disk first, it will not recognize them. I need a simple way to add MOD files from a hard disk into iMovie 09."
In fact, MOD file format is not natively supported by iMovie. Fortunately, there are always solutions out there. This following article just aims to solve the above issue in two solutions to import JVC MOD files to iMovie.
Solution 1:
This way is free and with no need of video format conversion but cannot solve importing all kinds of MOD files to iMovie.
1) Create a root folder called Mp_Root on an external drive, USB stick, SD card… (Probably works with a disk image as well, though I haven't tried it)
2) Inside this folder create another folder called 101PNV01
3) Copy the.mod files inside the 101PNV01 folder and change the extensions to .mpg
4) Restart iMovie, be sure you're using the "Import from Camera" option in the File menu, then iMovie will detect the external drive as a camera and allow importing all the clips using the date created/modified info as timestamps for perfect cataloguing.
Solution 2:
If the Solution 1 cannot help to successfully import JVC MOD into iMovie, you can try the Solution 2, which can help to import various MOD movies to iMovie whatever the MOD files is from digital camcorders like the JVC Everio, the Canon FS100 and the Panasonic D-Snap SD-card camcorders or downloaded from internet or got from friends and etc.
First of all, download the app – EaseFab Video Converter for Mac.
This program features high efficiency and seamless conversion. With it, you can do batch conversion from MOD to Apple InterMediate Codec – ensuring maximum editing quality and efficiency when working with iMovie. Besides that, you can easily convert any video file to any popular format for different uses. Here's how to change JVC MOD to iMovie format.
How to transcode JVC MOD files to iMovie format
1. Add MOD files to the program
Click the Add Video button to navigate your folder and then select the MOD files you want to convert. (Note: batch conversion is supported, so you can load more than one file to save time.)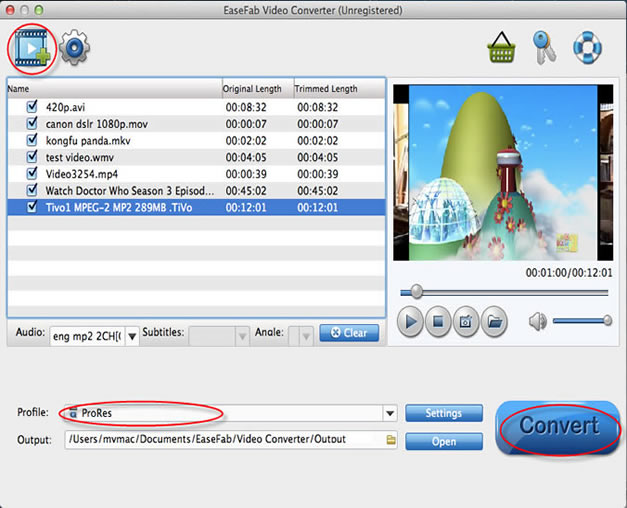 2. Pick iMovie as the output format
You can directly choose the preset for iMovie which has been supplied by the MOD to iMovie Mac Converter. The setting also works for iMovie '08, iMovie '09, iMovie '11, and iMovie HD etc. Moreover, the Mac program has some simple edit functions like cropping, splitting, adding effects etc.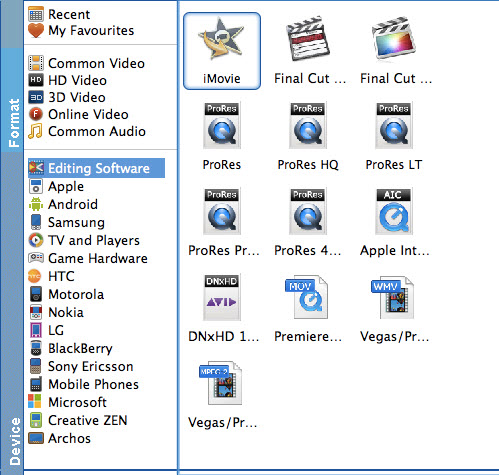 3. Start converting MOD to iMovie
Now click the "Convert" button, and then leave the MOD to iMovie Mac Video Converter to do the rest automatically for you. The converter works on MacBook, MacBook Pro, MacBook Air, iMac powered by Yosemite, Mavericks, Mountain Lion, Lion, or Snow Leopard.
When the conversion completes, click "Open" button to located the converted files. Finally, launch iMovie. In iMovie, go to the File menu, choose Import > Movies, and then navigate to the folder that your output JVC MOD files are saved. Select the files and click "Import".
Read More:
How to convert JVC MOD files for editing in Adobe Premiere Pro