QuickTime won't open MPG files? Here offers three ways: play MPG in QuickTime by installing a plugin, play MPG with a MPG player Mac, convert MPG for uses.
Actually, QuickTime supports the playback of MPG files. However, some Mac users have found that when the play their MPG video in QuickTime, only audio exists or even worse, QuickTime just crashes! So, is there any possible way to open a MPG file in QuickTime? Of course there is. Apart from QuickTime, there are a lot of options to help you play an MPG file in the Mac OS X with QuickTime (EI Capitan & Yosemite included).
In order to play a MPG file with QuickTime on Mac, we need to first learn something about the MPG format:
The MPG file container is usually used to hold multiplexed MPEG-1 or MPEG-2 video content. (The normal convention is MPG for "muxed" MPEG-1 and MPEG for "muxed MPEG-2 but there is no hard and fast rule here.). QT natively supports MPEG-1 video "muxed" with MPEG-1 layered audio and, prior to Lion, does not support MPEG-2 video without having the $19.99 QT MPEG-2 Playback component installed. However, it will not normally open or play data in transport streams, containers not properly terminated, or files which have timecode breaks. That's the reason why people usually feel frustrated when they try to play a MPG file in QuickTime. Here are some solutions:
Solution 1: Convert MPG to QuickTime for playback in steps
Solution 2: Use Perian Plugin to Play MPG with QuickTime
Solution 3: Play MPG with a powerful MPG Player for Mac – VLC
Solution 1: Convert MPG to QuickTime for playback in steps
To convert MPG to QuickTime compatible MOV, M4V or MP4, the professional yet easy-to-use EaseFab Video Converter for Mac (EI Capitan and Yosemite compatible) is a necessity. By installing of this kind of application, you then are able to play MPG files on Mac as easy as ABC. It helps you to change MPG format to Mac friendly format quite fast, while maintaining the good quality of the videos. Besides, there are many optimized presets for iPad, iPhone, iPod Touch, Apple TV, Final Cut Pro, iMovie, etc. which of course saves your time and energy in the process of video conversion. See more tips below.
Step 1: Drag the MPG files onto the interface.
Step 2: Choose any format or device you want (most popular format or devices are also supported here).
Step 3: Simply hit Convert at the lower-right corner of its interface.
Solution 2: Use Perian Plugin to Play MPG with QuickTime
In addition to the video converter you can also use a free QuickTime component such as Perian. Perian is one of the most popularly used free QucikTime components to provide native support to a wide variety of file formats such as MPG. However the biggest limitation of using Perian is that it can be only used on Mac OS Snow Leopard. Moreover the latest version of Perian, 1.2.3 requires installation of QuickTime 7 which is not available for other Mac OS apart from Snow Leopard such as Mountain Lion.
What you need to know before downloading Perian:
1. The latest version 1.2.3 of Perian doesn't work on Mac OS X Mavericks, let alone Yosemite and Mac 10.11 EI Capitan because Perian requires installation of quicktime 7, which doesn't exist for Mavericks and above. It also doesn't work on Mac OS X Mountain Lion.
2. With a Mac running Mac OS X 10.7, say, Lion, you have to downgrade to the previous version, say 1.2.2. The version of 1.2.3 of Perian does not support QuickTime 10 in Lion and fails to fix the loss of audio after one second in xvid files with ac3.
3. Before installing Perian, you need to remove all QuickTime Components installed on your Mac, like FFusion, Xvid Delegate, 3ivX, DivX, DivX Decoder, XviD, msmpeg4v1, msmpeg4v2, AviImporter, EX_M4S2, Casio AVI Importer, AC3 Codec, and MatroskaQT.
4. For a Mac running Lion or Mountain Lion, converting MPG video to QuickTime is highly recommended.
Solution 3: Play MPG with a powerful MPG Player for Mac – VLC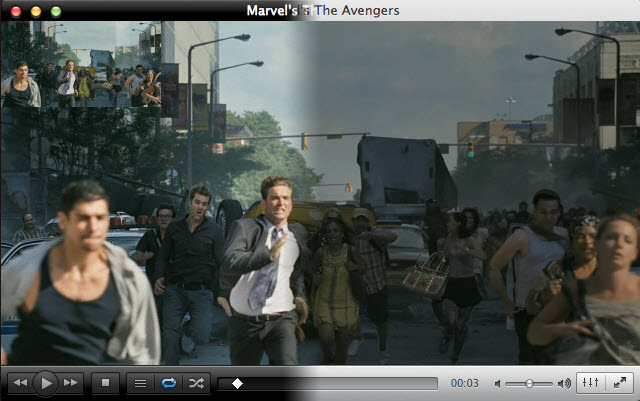 Apart from using the video converter and Perian you can also use a universal media player such as VLC player to play various types of file formats such as MPG on Mac. The VLC player works seamlessly on Mac and can be used to convert MPG format files into a format of your choice. However for seamless functioning you must ensure that you download Front Row which will allow you to import the MPG files into the VLC player for conversion. But you will not be able to transfer the converted files into other Apple products for playback.